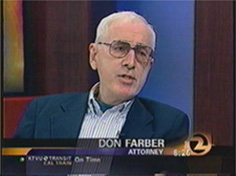 Welcome
Donald J. Farber is conveniently located in San Rafael, CA. Donald J. Farber is an experienced personal injury attorney who has helped clients throughout the U.S. with their personal injury related matters. At the Law Office of Donald J. Farber, we pride ourselves in providing knowledgeable legal counsel and representation. We are committed to our clients and their personal injury needs.
Skilled Personal Injury Attorney, Donald J. Farber has helped clients all throughout the U.S. seek monetary compensation for their physical damages. Attoney Farber has handled many civil cases, including medical malpractice and cases involving prescription drugs, particularly harm resulting from antidepressant suicide. He has also handled military law cases.
If you need help with any of the above areas, contact the Law Office of Donald J. Farber, preferably by Email, or by calling (415) 472-7181. Input will be considered "confidential" under California privilege law whether or not an attorney-client contract is ultimately formed.

Click here to read 'Fort Hood Shootings--April 2, 2014, Whitewash from the Outset' an account of the U.S. Army's policy of suppressing antidepressants as a possible factor in not only the Fort Hood shootings, but in the Army's overall suicide epidemic.

Click here to read an article about the role of anitdepressants in the rising suicide rate of military members and veterans

Contact us about your legal matter today!