Military Law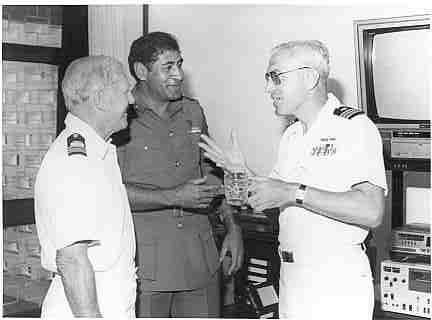 Hosting Foreign Officers: 1984
Military Law
By Don Farber, Esq. (Commander, U.S. Navy, Retired)
Client applicants will be considered who have cases in military law. Both administrative petitions and court martials are considered. I have represented defendants at court martials, sat on special court martials as a member, been a Summary Court Martial, acted as "JAG" manual investigator, been an "accused" at an Admiral's Mast (see below), and have represented Navy members at separation hearings, and Board for Correction of Naval Records ("BCNR") cases.
I know first hand both the virtues and drawbacks of military law. The "drawback" I speak of is command influence. I sat on a court martial once where both other members threw the book at the accused, giving him maximum punishment and awarding a bad conduct discharge, for a relatively minor offense. When I dissented in the secret deliberations with my two colleagues, both agreed with me that the offense was minor, but insisted that the "system" required they throw the book at the accused, so that the commanding officer could be the "good guy" if he so desired. Obviously that is puppetry, not justice.
By the same token, what better virtuous example of military justice might a person illustrate than that enjoyed by one's self? In 1975 I was the accused during an Admiral's Mast. I was accused of negligence and hazarding a vessel, after the ship in which I was Office of the Deck, grounded. It's a long story, as they all are, and I won't bore you with the details. The captain of the ship and the navigator were also charged. Suffice it to say that I fought what I thought were unjust consequences following the incident. By what were the expectations of some, that I should just shut up and take my fate, and that I would retire without ever being promoted—I didn't buy. So I continued to fight, and eventually the "system" worked. When I finally got the two unjust fitness reports removed from my personnel record, I was promoted at the next selection board, receiving a congratulatory telegram by the president of the selection board for my relentless efforts and continuing outstanding performance after the grounding. I was not screened for an afloat command after that, but all in all, I felt the system "worked" for me. But also, one has to "work" himself/herself to achieve justice I could easily have been forced to retire as a lieutenant commander, of which many have, so I considered myself lucky. While I felt I deserved the promotion all along, the sobering reality is that the justice system, military and civilian, is imperfect simply because it is a human creature. Justice just doesn't appear; one has to fight for it.
Donald J. Farber, Commander, U.S. Navy (Retired)
Military Career
Enlisted: July 19, 1961 in U.S. Naval Reserve
1961 Officer Candidate School, Newport, RI.
1962 USS Randolph (CVS-15), homeported Norfolk, VA (Crypto Security Officer)(Cuban missile crisis)
1963 U.S. Naval Amphibious School, Coronado, CA (Communications and Counter Insurgency Instructor)
1965 (Active Reserve Military Sea Transportation Service Unit 12-2, San Mateo, CA)
1965 USS Ruchamkin (APD-89), homeported Little Creek, VA (Operations Officer)
1967 U.S. Naval Destroyer School, Newport, RI
1968 USS Benner (DD-807), homeported Long Beach, CA (Weapons Officer)
1970 Joint Communications Center, Taiwan Defense Command, Taipei, Taiwan (Officer in Charge)
1972 U.S. Seventh Fleet Logistical Support Force Afloat, homeported Sasebo, Japan, (Assistance Chief of Staff for Communications) (Embarked on USS Hector, USS Jason, and USS Ajax).
1974 USS Harry E. Yarnell (CG-17) Operations Officer
1976 Joint U.S. Military Advistory Group, Navy Section, Philippines, Manila, RP. (Training and Maintenance Advisor to Phillipine Navy)
1979: USS Coral Sea, CV-43, homeported Alameda, CA (First Lieutenant and Deck Officer)
1981: Surface Warfare School (Prospective Executive Officer Curriculum, Newport, RI
1981: USS Vulcan (AR-7), homeported Norfolk, VA (Executive Officer)
1983: Representative of Commander in Chief Pacific Command to Southwest Pacific, U.S. Embassy, Suva, Fiji.
1984: Officer in Charge, DOD Housing Facility, Novato, California
1986: Director Tanker and Cargo Ship Division, Military Sealift Command, Oakland, CA
1988: Retired Active Duty
1988-1991: American Institute in Taiwan, Taipei, Taiwan, (U.S. Department of State); Administered in country portion of U.S. Navy arms sales program to Taiwan.